This is Me
---
I have been photographing newborns and children for over 7 years now. I am a wife, a mother of 4 wonderful children and 2 awesome stepchildren (ages 22 down to 6), and a grandmom! We have a very well blended family! Many clients have lovingly deemed me "the baby whisperer" when it comes to soothing their baby. I have been a nurse since 2006, and started my career as a NICU nurse at the Children's Hospital of Philadelphia. I have found that this experience has settled the minds of nervous new moms and dads when working with their newest miracle.
I would be truly honored to capture any of your life's most precious memories and miracles. I use the word "miracle" because that is what every moment is that is spent with those you love. I have 3 angel babies and know all too well how delicate life is. I take each image with you in mind and want you to fall in love all over again every time you see your photographs. There isn't much to complain about with my job. I meet wonderful families, get to hold and cuddle gorgeous babies, spend time with my very good friend and assistant, Gena, and listen to beautiful stories of how each family came to be. And the fact that I get to capture all or part of this journey fills my heart with such joy.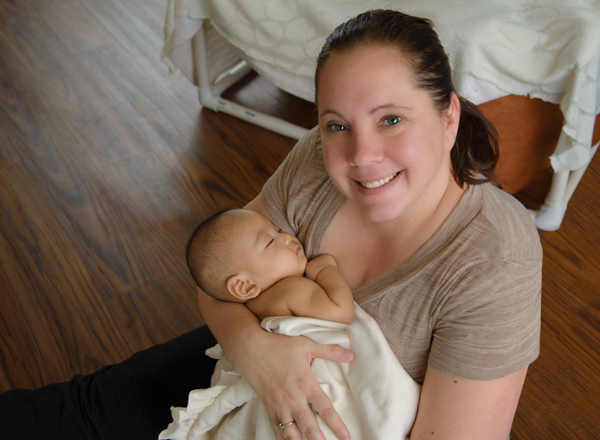 Our Studio
---
Danielle Foster Creations Photography was born in 2010. Yes, I refer to it as my baby, because that is what it is to me. Something I love and care about and something I can't imagine living without. We moved into our first studio on Darby Road Havertown, PA in November, 2013 and moved into our new location at 29 W. Eagle Road in February of 2016. In January of 2017, we welcomed another addition to our studios with a new location in Media, PA! We want you to feel comfortable enough to kick off your shoes, sit back, and relax without a worry in the world. We love seeing parents kicking back and enjoying the show! I primarily photograph utilizing our delicious natural light coming from our large front window that is delicately filtered by white sheers. We do seek help from our studio lights in the evening or on gloomier days.
We pride ourselves in the long-term relationships that have developed with our clients who we gladly call our friends. We have had the pleasure of watching beautiful couples become parents, newborns become toddlers, and those toddlers become big brothers and sisters. It is such a wonderful, yet incredibly important job. One that we take very seriously but still have fun with you along the way. We know it's difficult to find a photographer to fit your needs, style, and budget and we do our best to meet all of those aspects. We thank you for considering us and taking the time to visit. We hope you enjoy what you see and look forward to hearing from you!