This is Me
---
I have been photographing newborns and children for over 8 years now. I am a wife, a mother of 4 wonderful children and 2 awesome stepchildren (ages 22 down to 6), and a mommom! We have a very well blended family! Many clients have lovingly deemed me "the baby whisperer" when it comes to soothing their baby. I have been a nurse since 2006, and started my career as a NICU nurse at the Children's Hospital of Philadelphia. I have found that this experience has settled the minds of nervous new moms and dads when working with their newest miracle.

I would be truly honored to capture any of your life's most precious memories and miracles. I use the word "miracle" because that is what every moment is that is spent with those you love. I have 3 angel babies and know all too well how delicate life is. I take each image with you in mind and want you to fall in love all over again every time you see your photographs. There isn't much to complain about with my job. I meet wonderful families, get to hold and cuddle gorgeous babies, spend time with my very good friend and assistant, Gena, and listen to beautiful stories of how each family came to be. And the fact that I get to capture all or part of this journey fills my heart with such joy.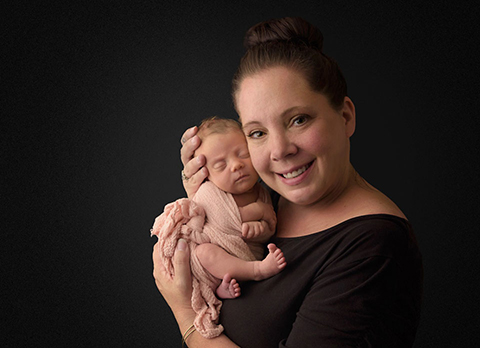 Our Studio
---
My husband, Tim and I started Danielle Foster Creations in 2010. I shot in my living room for almost 2 years. Things quickly grew from there and I couldn't shoot in my home any longer. At the time, I was still working full time as a nurse. We jumped in with both feet, I quit my job and we moved into our first studio on Darby Road Havertown, PA in November, 2013, which was a cute double store front space. With the success of our Santa and Easter Bunny Experience, we needed more and more space! So, fast forward 5 years and August, 2018, we moved to our permanent home at 1717 West Chester Pike in Havertown! Although we have bigger space, I still want you to feel comfortable enough to kick off your shoes, sit back, and relax without a worry in the world. We love seeing parents kicking back and enjoying the show (and sometimes taking a nap)!
We pride ourselves in the long-term relationships that have developed with our clients who we gladly call our friends. We have had the pleasure of watching beautiful couples become parents, newborns become toddlers, and those toddlers become big brothers and sisters. It is such a wonderful, yet incredibly important job. One that we take very seriously but still have fun with you along the way. We know it's difficult to find a photographer to fit your needs, style, and budget and we do our best to meet all of those aspects. We thank you for considering us and taking the time to visit. We hope you enjoy what you see and look forward to hearing from you!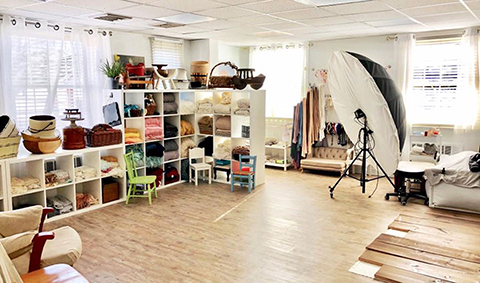 Our DFC Family
---
This is Tim
Tim is my husband and we have been together for almost 20 years. He is the man behind the scenes. CFO & my techie geek. If you have been here for our Holiday Experience, that is all him. He is the yin to my yang. He has the patience of a saint and to be to be married to me, he has to. I am so proud of the business we have built together.
This is Samantha
Samantha has been with me since 2015. She pretty much does a little bit of everything. If you have ever come for my holiday experience, then you have probably met her. She is also my administrative assistant, so if you have ever called the studio, chances are, you have spoken to her. I am so grateful that she is a part of this family. She really keeps me steered in the right direction!
This is Jen
Jen is the newest DFC family member. She was an infant room teacher for the past 4 years and has a BA in Education from Bloomsburg University. She is a nice combo of Samantha and Bridget, doing a little bit of everything! I am so happy to have her as part of our family.