I've been dreading the thought that the day would come to write this blog entry. Today my 17 year old daughter, Jessica, will take the mat to cheer one last time. She is a Senior and tomorrow is it. She started cheering when she was 6 and never looked back. I coached Jessica from that time until she was 14. I coached with two women who quickly became my best friends &sisters. Now, the Godmothers to my two younger children. Coaching 6 year olds you have to start at the basics. And part of those basics were to teach right and left. So we put ladybug stickers on their left shoe. L is left, Ladybug starts with L. Simple. Now, almost 12 years later, we still talk about ladybug stickers. My fondest memory is all of them running into our arms after they come down from their pyramid and somehow our arms were long enough to hold all 20-25 of them.
This year, there are 12 seniors I have coached. Not only will I watch Jessica, but I will also watch 9 of them perform. Whether it was only a short time for some of them or many years for others, they all hold a special place in my heart and it is amazing to see what wonderful young women they have become. I don't think they know what joy they brought to my life at a time that wasn't always a happy one. These girls saved me and got me through such dark days and I really wish they knew what a positive impact they had on my life and I truly hope I left a positive impression on theirs.
2011 was the last time I would sit on the edge of the mat and cheer Jessica on as her coach. And I will never forget her first performance when I had to climb the bleachers as her mom to just sit and watch. Man was it far away. The night before that first performance she cried saying "I'm going to miss not being able to see you right there." I never realized that she noticed. I thought I was the only one who felt that way until I sat next to another momma coach, hating every minute of it as much as I did. I spent the next 4 years sitting next to her cheering as loud as we could so they could hear us no matter how far away from the edge of the mat we were.
So in less than 12 hours, this mom will walk into that competition, sit in the stands next to my cheer momma buddy one last time and watch my beautiful daughter perform one last time and walk off the mat one last time. But the truth is, all I will see is this tiny little blonde bean, running at me with these huge pigtails and a ladybug on her left shoe.

Jessica's First and Last Year of Cheer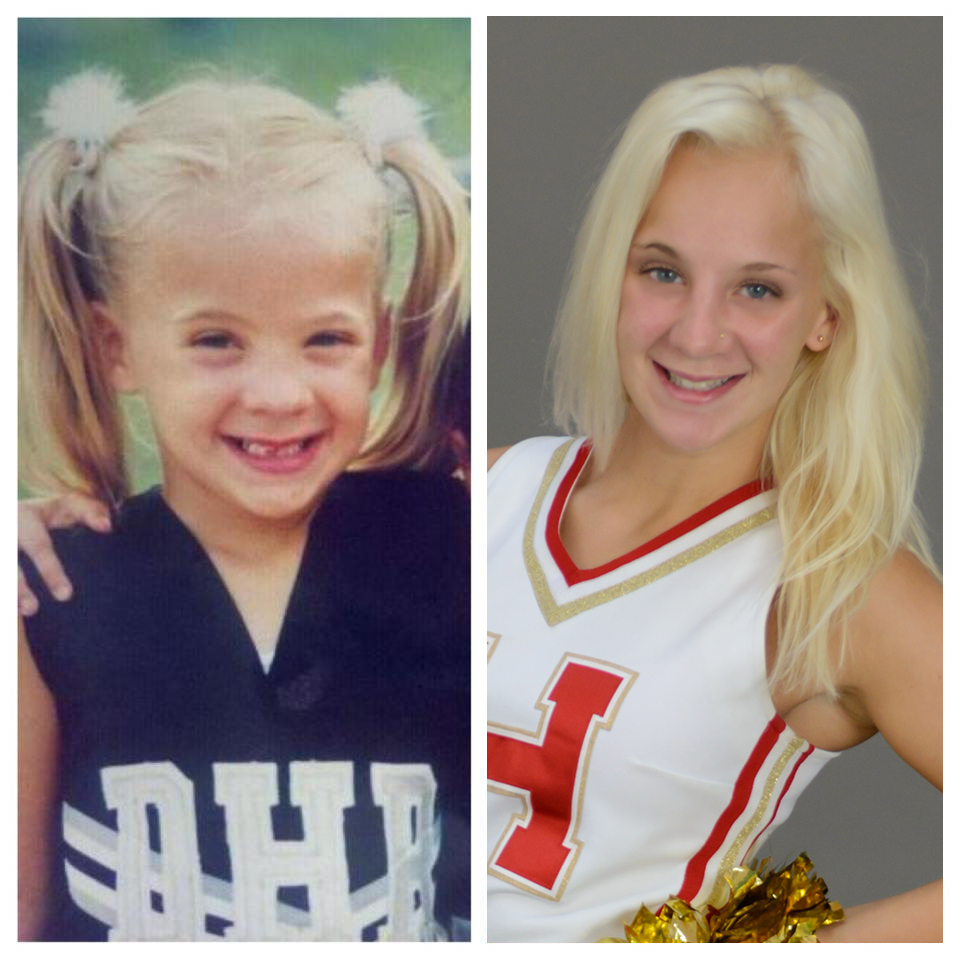 For all my senior cheerleaders